Maria craft hemp beer from the Birra Eretica microbrewery, 33 cl bottle.
Light beer very pleasant on the palate with a taste not too strong and soft. With an enveloping mouthful and a slight aftertaste of hemp with a herbaceous scent. Floral scents released by the presence of a bouquet of flavored hops that blend perfectly with the fragrance of hemp.
Hemp beer doesn't contain THC.
Ingredients: water, barley malt, hops, hemp, yeast.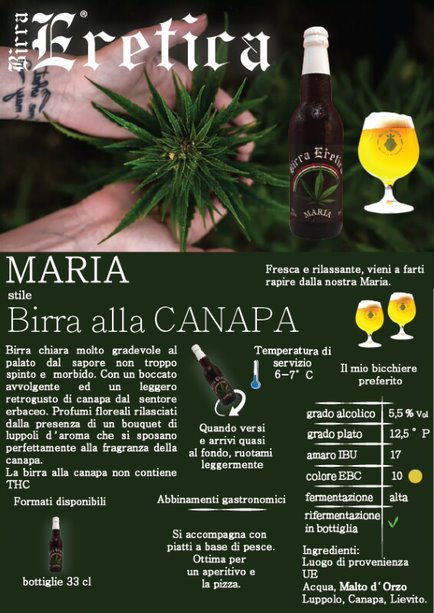 Region

Lombardy

Colour

Blonde

ABV

5,5

IBU

17

Degrees Plato

12,5

Fermentation

Top

Tasting Temperature

6-7°C

Bottle Fermented

Yes

EBC Colour

10

Style

Hemp Beer
Birra Eretica was founded in 2011 in Ornago, a small town in the province of Monza Brianza, from the passion of Luciano Parolini, Paolo Piazza and Ilario Limonta, three friends united by the passion for beer. Birra Eretica is an unfiltered and unpasteurized beer, produced using only water, malt and hops, without any spice, nor aroma. Its name, rather particular and difficult to forget, finds its origins in the very first brewery, the village of Concorezzo, which is said to be the seat of one of the most important sects of heretics of the Middle Ages. The word "heresy" also comes from the Greek meaning of "choose": a perfect combination for this new craft beer.
From here was born also the slogan: heretical/ or is the one who seeks, tries, tastes, currency and then chooses.... to drink our beer!
The production has now 14 types of high and low fermentation beers, with references to the traditional German, Belgian and British repertoire, winners of 4 national awards: in 2013 Eclisse, in 2016 Balurdon, in 2017 Luppolina and Ornagher.